Completed in 2014 by the acclaimed Chinese architecture firm Atelier Deshaus, the West Bund Long Museum is strategically situated along the banks of the Huangpu River in Shanghai. The museum occupies a historically significant site that was once used as a wharf for coal transportation.
Long Museum West Bund Technical Information
Architects1-3: Atelier Deshaus
Client: Shanghai Xuhui Waterfront Development, Investment & Construction Co., Ltd.
Project area: 33,007 m2
Site area: 19,337 m2
Project year: 2014
Images: © Su Shengliang
The new design adopts the cantilever structure featuring "vault-umbrella" with independent walls while the shear walls with free layout are embedded into the original basement so as to be concreted with the original framework structure.

– Atelier Deshaus Architects
Long Museum West Bund Photographs
A Blend of Industrial Heritage and Contemporary Design
Long Museum West Bund Image Gallery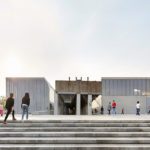 Notes
Design Group: Liu Yichun, Chen Yifeng, Wang Longhai, Wang Weishi, Wu Zhenghui, Wang Xuepei, Chen Kun
Structure, Electrical & Mechanical Engineer: Tongji Architectural Design (Group) Co, Ltd. (TJAD)
Structure, Electrical & Mechanical Design Team: Chao Si, Zhang Zhun, Shao Xiaojian, Shao Zhe, Zhang Ying, Shi You, Li Weijiang, Kuang Xingyu, Zhou Zhili
Lighting Design: Shanghai Guangyu Lighting Design Co., Ltd.