Kazuo Shinohara was a renowned Japanese architect known for his innovative and minimalist designs. In 1977, he designed the House in Ashitaka, which was heavily influenced by Japan's traditional "Chise" houses. This iconic building was part of a series of concrete homes Shinohara built between 1970 and 1977, including the "Uncompleted House" in Tokyo, the "House at a Crooked Corner" in Tokyo, and a house in Uehara. These buildings are considered to be some of the most important examples of modern Japanese architecture, and they continue to be studied and admired by architects and design enthusiasts around the world. With their stark, minimalist forms and innovative use of concrete, these buildings represent a departure from traditional Japanese architecture and a new approach to designing for contemporary living.

House in Ashitaka Technical Information
Shinohara lets secrecy and straight-forwardness coexist, so much that one could define the houses as being shizophrenic.

However, there are always those moments when two seemingly disparate systems overlap because Shinohara carefully omits to build borders between two things. So, it is not a collage.

The two realms are not pasted together. They remain separate but still communicate something that is beyond what each disparate system can suggest on its own.

– Valerio Olgiati – Conversation with Students
House in Ashitaka by Kazuo Shinohara Photographs
Text by the Architects
Generally regarded as an 'architect's architect,' Shinohara was content in his early work to ring the changes in reductively modernized versions of the traditional Japanese house.
His house was inspired by the traditional "Chise" House. The word "chise" in the Ainu means "a house," which could be seen in the Ainu Kotan (village). It was usually built in the Yosemune-zukuri style (a square or rectangular building). The building materials of an Ainu house varied according to geographical and climatic conditions. Bamboo leaves, wild grasses, thatch, reed grass, and tree bark were used for roofs and walls, which were tied with grapevine or tree bark.
The wood of chestnut, Japanese Judas tree, and Amur mackia was used for supporting pillars, which were directly set up without foundation stones. A "chise" typically has three windows; the one in the back is a rorun-puyar (god's window), through which the gods enter; the one on the right is for letting in light, and the one near the entrance is for cooking ventilation.
This traditional type, together with other vernacular models such as the Minka and the Sukiya, was taken as a reference by a generation of Japanese architects that, in their practices, problematized and rethought the values of Modernity and Modernism.
This changed, however, with his so-called House with a Big Roof in 1961 Tokyo. In this project, the architect shifted his interest from reductively modernized versions of the traditional Minka and Sukiya houses towards iconic projects that produced a critique of how tradition could be brought into modern architecture.
After that, his houses tended to be identified not by the place where they were built but by the single-minded image that was the basis of their design. He subsequently produced eccentric works with earthen floors and strange, high-pitched interior volumes entirely devoid of furniture.
This obsession with an iconic existential architecture reached its apotheosis in a series of stark concrete houses designed between 1970 and 1976: Incomplete House and House at a Crooked Corner, both in Tokyo, a house in Uehara, and one in Ashitaka. Together they formed a monumental series that brought this phase of his work to a conclusion.
House in Ashitaka by Kazuo Shinohara Plans
House in Ashitaka by Kazuo Shinohara Gallery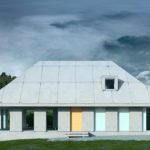 About Kazuo Shinohara
Kazuo Shinohara (1925-2006) has proved to be the most influential architect of his generation in shaping contemporary Japanese architecture. His influence stretches from Toyo Ito, Itsuko Hasegawa, and Kazunari Sakamoto, via Kazuyo Sejima, to the many excellent young studios working today. Nevertheless, his work remains little known in the West, partly due to the scarcity of publications on his work – which in turn was due to the rigorous control the architect maintained over the publication of his work.