Completed in 2015 and designed by Japanese Architect Hiroshi Naito, the Gymnasium in Shizuoka Prefecture, Japan, has a 4 level structure built with laminated timber trusses. In this project, the architect creates a simple, highly durable wooden structure.
Gymnasium in Shizuoka Technical Information
Architecture is the place where the lives of the people who live within it dwells, and the architecture itself comes to life as the memories of the space and time experienced by the people cohere to it.

– Hiroshi Naito
Gymnasium in Shizuoka Photographs
Hiroshi Naito is a theorist, and his focus is on creating modern architecture that will endure for over a century. His latest project is Japan's biggest wooden structure, the Kusanagi Sports Complex Gymnasium, which is now opened in Shizuoka Prefecture. The architect holds the belief that what must be realized today in the post-3.11 age is a shift away from the "protoform" (a dream living for an individual) to the "protoscape" (a dream landscape for a common body of people).
Designing in Japan, the top priority is put on durability and safety against earthquakes. To support the large roof with a load of 2,350 tones, as pillars, 256 cedar bonded blocks of wood with the same length ( 14.5m ) are allocated elliptically while changing angles from 45 to 70 degrees. Steel braces on the back of bonded wood support the short-term load. To block the thrust force at the pedestal of bonded wood, which tends to stretch outward, post-tension is applied to the lower part of bonded wood by installing RD horizontal rings.
Models of  Hiroshi's Naito Gymnasium in Shizuoka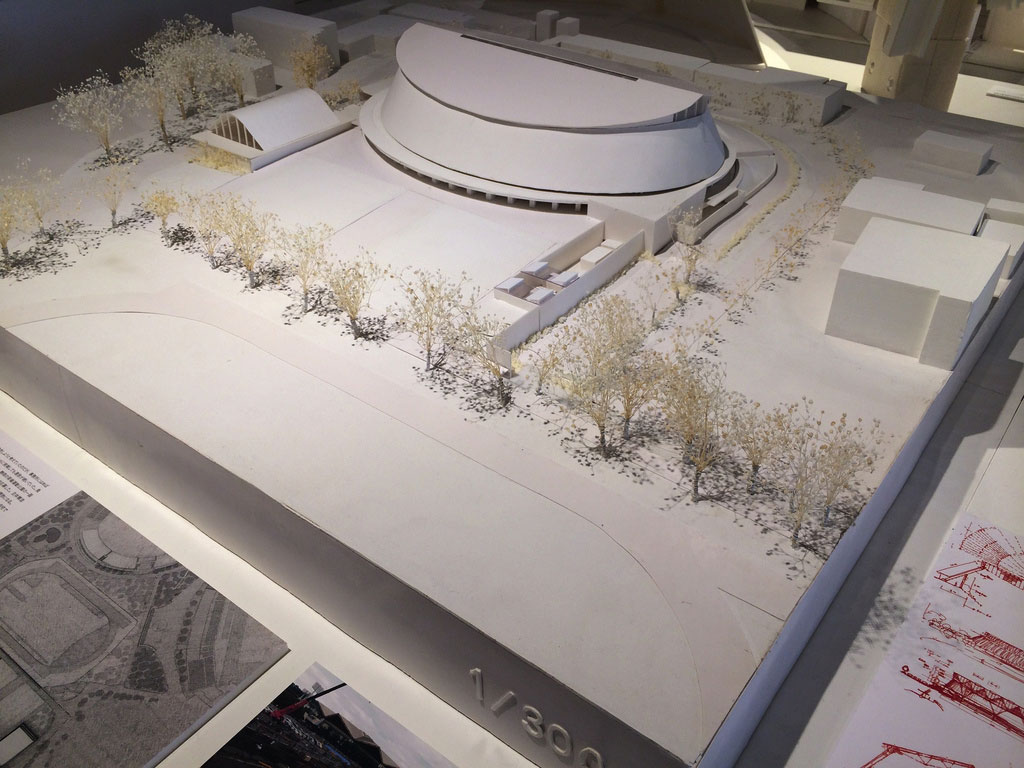 More images of  Hiroshi's Naito Gymnasium in Shizuoka
About Hiroshi Naito
Hiroshi Naito (内藤 廣 Naitō Hiroshi) is a Japanese architect born in Yokohama, Japan, in 1950. He is the principal architect at Naito Architect & Associates based in Tokyo.
He received a Master in Architecture from the Graduate School of Waseda University, and he was chief architect at Fernando Higueras in Madrid, Spain, from 1976 to 1978. Back in Japan, he worked at Kikutake Architects from 1979 to 1981 before establishing Naito Architect & Associates in 1981. Naito is Professor emeritus at the University of Tokyo.
Hiroshi Naito has won numerous architectural awards. His major works include the Sea-Folk Museum (Mie, 1992), Chihiro Art Museum Azumino (Nagano, 1997), Makino Museum of Plants and People (Kochi, 1999), Fuji RINRI Seminar House (Shizuoka, 2001), River Retreat Garaku ANNEX (Toyama, 2002), Shimane Arts Center (Shimane, 2005), Hyugashi Station (Miyazaki, 2008), Kochi Station (Kochi, 2009), TORAYA Kyoto (Kyoto, 2009), and Asahikawa Station (Hokkaido, 2011).
[cite]