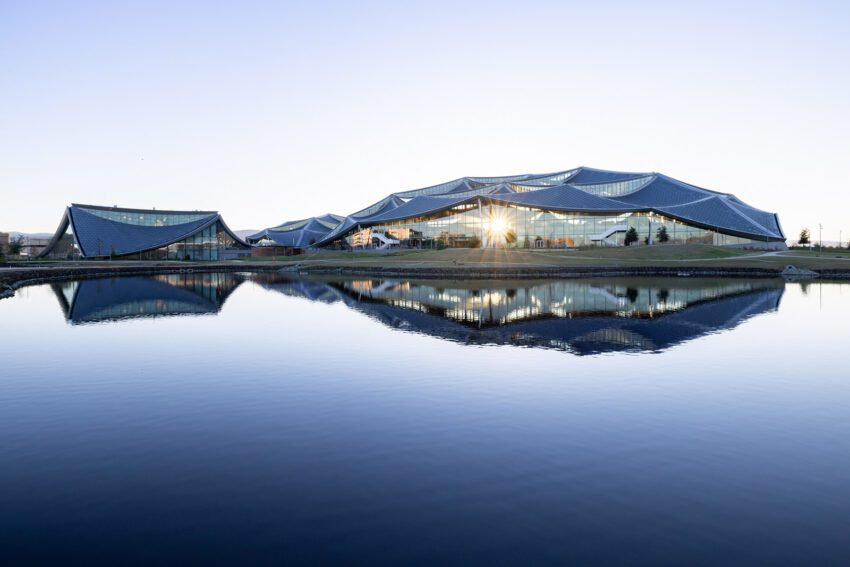 The Google Mountain View Campus, designed by Bjarke Ingels Architects and Heatherwick Studio, is a unique combination of two projects: Charleston East and Bay View. The campus was created with the goal of accommodating the constantly evolving needs of the company, and integrating future work models. The roof is detached from the slabs and walls, creating a vast, hangar-like free space. The program is distributed over two levels that are connected by courtyards. The ground floor contains public spaces and auxiliary uses, while the upper floors house the actual work areas and recreational facilities. This innovative design approach creates a heterogeneous space that is both functional and visually striking.
Google Campus Technical Information
With an emphasis on human-centered design for optimizing technology, Bay View will feature open-plan offices consolidated on a single raised open floor plate, with all the associated support spaces tucked under this level and accessed through a series of place-making courtyards.

– BIG Architects
Google Campus Photographs
The Sustainable and Innovative Design of Google's Bay View Campus
The Bay View site, as part of the Google Mountain View campus, houses a state-of-the-art office space designed to seat 4350 Googlers in 2 large single-volume spaces that rethink the future of workplace design. With an emphasis on human-centered design for optimizing technology, Bay View features open-plan offices consolidated on a single raised open floor plate, with all the associated support spaces tucked under this level and accessed through a series of place-making courtyards.
Designed by BIG-Bjarke Ingels Group and Heatherwick Studios in close collaboration with Google, Bay View is Google's first-ever ground-up campus with the mission to operate on carbon-free energy, 24 hours a day, seven days a week by 2030.  The buildings deliver on Google's ambition to create human-centric, sustainable innovations for the future of Google's workplace as well as scalable, replicable solutions for the construction industry and beyond.
Located on a 42-acre site at the NASA Ames Research Center in Silicon Valley, the Google Bay View Campus, consisting of three buildings, totals 1.1 million sq ft – including 20 acres of open space, two workspace buildings, a 1,000-person event center, and 240 short-term employee accommodation units. All three buildings are constructed as lightweight canopy structures optimized for interior daylight, views, collaboration, experiences, and activities.  
Bay View's three new buildings are part of Google's ambition to be the first major company to operate on carbon-free energy, 24 hours a day, seven days a week by 2030. The site is expected to achieve a LEED-NC v4 Platinum certification and become the largest facility ever to attain the International Living Future Institute (ILFI) Living Building Challenge (LBC) Water Petal Certification. 
Anchored in three themes defined by Google's design brief at the beginning of the project – innovation, nature, and community – the design is driven by flexibility and extraordinary user experience that inspires collaboration and co-creation. Team spaces are on the upper level and gathering spaces are below, separating focus and collaborative areas while still providing easy access to both. The second-floor design has variations in floorplates to give teams a designated "neighborhood" area that is highly flexible to change with their needs. 
Working with a client as data driven as Google has led to an architecture where every single decision is informed by hard information and empirical analysis. The result is a campus where the striking dragonscale solar canopies harvest every photon that hits the buildings; the energy piles store and extract heating and cooling from the ground, and even the naturally beautiful floras are in fact hardworking rootzone gardens that filter and clean the water from the buildings. All in all, a campus where front of house and back of house, technology and architecture, and form and function have been fused into a new and striking hybrid.

– Bjarke Ingels, Founder and Creative Director, BIG-Bjarke Ingels Group. 
The Bay View Buildings are split across only two floors, with desks and team spaces on the upper level, and the amenity spaces below. A series of indoor "courtyards" throughout the buildings connect the two levels, giving teams easy access to cafes, kitchenettes, conference rooms, and all-hands spaces. The courtyards also encourage the physiological benefits of physical movement when circulating between levels and different modes of work, and double as wayfinding devices. 
Above, the large-span canopy with average orthogonal column spans allows the entire second-level workspaces to be open and connected under one roof. These workspaces prioritize access to natural light and views, with reduced glare through carefully designed clerestory windows punctuating the canopy. 
Rather than being segmented by excessive columns and support walls, the structural innovation of the canopy roof allows for a wide-open workspace; every person has equal access to views across the floorplate, and through the perim­eter facade and clerestory windows to the outdoors. On the exterior, all three buildings feature a first-of-its-kind "dragon scale" solar skin roof equipped with 50,000 silver solar panels that generate a total of nearly seven megawatts of energy. 
This canopy superstructure applied across all the buildings is the result of a multi-year effort to achieve the most functional, energy-efficient, and economical building solution: a net system made of tubular steel with simple clerestory windows between the canopy bays and an opaque roof structure offers the best acoustic control, minimizes thermal heat gain, lower overall energy loads, and allows Google to harvest the maximum amount of solar PV on the outside. It also provides daylight to the workspaces inside without excessive glare, allowing every desk in the building to have views of the outside, and access to daylight throughout most of the day. 
Google Bay View offers a workplace experience that is an antithesis to an urban high-rise; Containing as much area as the tallest office tower in San Francisco, the typically stacked floorplates are redistributed into a flat array, creating a vibrant village. While on-site carbon and water neutrality is challenging for skyscrapers, this bay-scraper typology enables us to harvest the power of the sun, earth, and water. We hope Bay View will provide a quantum leap in the evolution of the workplace, elevate the benchmark for sustainable design, and inspire the next generations of users and visitors to the building.

– Leon Rost, Partner, BIG-Bjarke Ingels Group. 
Bay View operates entirely on electric energy and the campus houses the largest geothermal pile system in North America, estimated to reduce carbon emissions by almost 50% and water used for cooling by 90%. In addition, on-site systems built by Google collect, treat, and reuse all stormwater and wastewater and provide habitat restoration, sea level rise protection, and access to the beauty of natural wetlands for both Googlers and the public on the nearby Bay Trail.  
Bay View is also a Living Building Challenge (LBC) water-positive campus and is on track to be the largest project ever certified by the International Living Future Institute (ILFI) under any of its programs, which are recognized as the most ambitious regenerative building rating systems in the world. 
Google's mission to unlock advancements for the benefit of the entire industry have led to several scalable solutions in working on the Bay View campus: increasing modular construction, geothermal at new scales, innovation in PV design, a permitted blackwater system, waste diverted from landfill, improved total number of products vetted for Red List ingredients, and landscape designed to advance water stewardship and create valuable habitat for threatened wildlife. 
 Overall, the Google Bay View campus has forged a new frame­work, materials language, and ecological approach that will help push both the future of the workplace and the built environment-at-large, forward.  
The design of Bay View features a large canopy that regulates light, climate, air quality, and sound and encloses flexible building segments that can accommodate the change in office use over time. Both inside and outside of the enclosure, we plan to restore the natural habitat of the site. A generous central plaza connects to the two offices' "squomes" (square domes) and provides a shaded, sheltered, secure outdoor space for large-scale events, meetings, and dining. This external heart of the complex also provides access to a third structure which houses 1000 and 500 seat live production spaces and smaller break-out event spaces.
Design Narrative
The proposal for Charleston East integrates and respects nature, fosters a sense of community, and reflects Google's culture of innovation through bold architecture and infrastructure. Our goal is to create a highly flexible workplace that can not only adapt to Google's evolving business needs but can also become a destination for the local community.
The Charleston East site is uniquely positioned within North Bayshore, located at the junction between the key Gateway Boulevards and within the general character area but bordering the 'Core Area.' Our proposal reflects the value of this location and responds to the surrounding neighborhood. Nestled between an urban area to the south and the natural frontier to the north, the site embeds itself by extending those existing characters onto the site. Set in a larger landscape, the design creates new public and private spaces by adding man-made topographies that define paths and connect the site to what sits around it.
Mountain View has a clear vision of business and nature coexisting, which will help sensitive species thrive in Shoreline Regional Park. Google shares this vision, and the Charleston East ecosystem enhancements are designed to benefit from informed, committed stewardship, with natural surroundings that invigorate the workplace and the neighborhood.
The ground level consists of a collection of pavilions with a pedestrian path that weaves through the building. The pedestrian path through the building will typically be open to the public from dawn to dusk. Cales and shops dot the artery to create a bustling social and retail destination open to Googlers and the wider public. Smaller meandering paths between the pavilions provide quieter and more intimate spaces for collaboration and private conversation.
Set above these pavilions is a stepped office floor where Googlers can connect spatially and visually. However, office furniture and partitions on the upper level are highly flexible and reconfigurable. As a two-tier building, desk spaces are located above the noise and activity of meeting rooms and cafes, minimizing distraction and interruption for the workers above.
To provide environmental protection and daylight control across such ample space, a lightweight canopy is held up by a grid of delicate-looking tent poles. Natural light will seep through the clerestories between each catenary panel to illuminate the interiors. Vertical curtain walls on all four elevations will enable daylight to flood the workspace and provide employees with views outdoors.
Google Campus Plans
Bay View and Charleston East Video
Google Mountain View Campus Image Gallery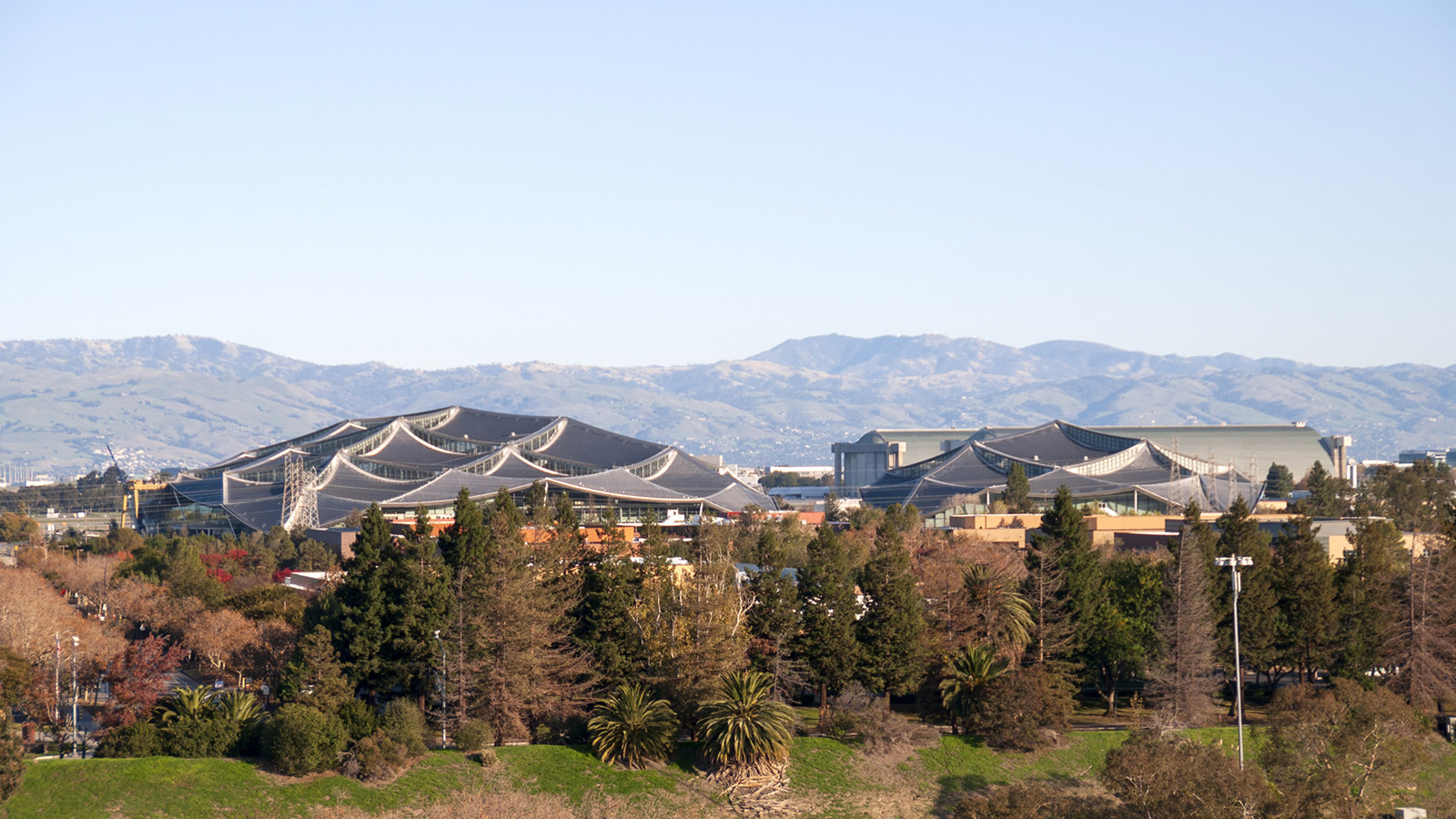 About Bjarke Ingels
Bjarke Ingels (born in Copenhagen in 1974) studied architecture at the Royal Academy in Copenhagen and the School of Architecture of Barcelona, ​​obtaining his degree as an architect in 1998. He is the founder of the BIG architecture studio – (Bjarke Ingels Group), founded in 2005, after co-founding PLOT Architects in 2001 with his former partner Julien de Smedt, whom he met while working at the prestigious OMA studio in Rotterdam.

Bjarke has designed and completed award-winning buildings worldwide, and currently, his studio is based with venues in Copenhagen and New York. His projects include The Mountain, a residential complex in Copenhagen, and the innovative Danish Maritime Museum in Elsinore.
Works from BIG Architects 
About Thomas Heatherwick
Thomas Heatherwick established his studio in 1994 and is recognized for its work in architecture, urban infrastructure, sculpture, design, and strategic thinking. Today a team of 180, including architects, designers, and makers, works from a combined studio and workshop in London.
At the heart of the studio's work is a profound commitment to finding innovative design solutions, dedication to artistic thinking, and the latent potential of materials and craftsmanship. This is achieved through a working methodology of collaborative rational inquiry, undertaken in a spirit of curiosity and experimentation.

In the twenty years of its existence, Heatherwick Studio has worked in many countries, with a wide range of commissioners, and in various regulatory environments. Through this experience, the studio has acquired a high level of expertise in designing and realizing unusual projects, focusing on a large scale.
Works from Heatherwick Studio 
Partner-in-charge: Bjarke Ingels, Thomas Christoffersen, Daniel Sundlin, Leon Rost
Project Leaders: Blake Smith, Ryan Harvey, David Iseri, Florencia Kratsman
Project Managers: Linus Saavedra, Ziad Shehab
Team: Agla Egilsdottir, Alan Tansey, Alessandra Peracin, Ali Chen, Andriani Atmadja, Ania Podlaszewska, Armen Menendian, Beat Schenk, Benjamin Caldwell, Bernard Peng, Brian Zhang, Camilo Aspeny, Cheyne Owens, Cristina Medina Gonzalez, Danielle Kemble, Deborah Campbell, Diandian Li, Douglass Alligood, Dylan Hames, Erik Berg Kreider, Eva Maria Mikkelsen, Guarav Sardana, Guillaume Evain, Hacken Li, Helen Chen, Isabella Marcotulli, Isela Liu, Jan Leenknegt, Jason Wu, Jennifer Wood, Ji-young Yoon, Jia Chengzhen, Jian Yong Khoo, Joshua Plourde, Kalina Pilat, Kurt Nieminen, Manon Otto, Marcus Kujala, Michelle Stromsta, Nandi Lu, Nicole Passarella, Olga Khuraskina, Oliver Colman, Patrick Hyland, Peter Kwak, Ramona Montecillo, Rita Sio, Sebastian Grogaard, Seo Young Shin, Siva Sepehry Nejad, Terrence Chew, Thomas McMurtrie, Timothy Cheng, Tingting Lyu, Tracy Sodder, Valentino Vitacca, Vincenzo Polsinelli, Walid Bhatt, Yesul Cho, Yina Moore, Zhonghan Huang
Collaborators: Sares Regis (Development Group), Adamson (Executive Architect), STUDIOS (Interior Architect), Populous (Events Consultant), Thornton Tomasetti (Structural Engineers), Integral Group (Mechanical Engineer), Olin (Landscape Architect), ARUP (Civil Engineer & Acoustic Consultant & Facade Engineers), BKF (Civil Engineer), Sherwood (Water Engineer), Holmes (Fire & Life Safety), Kleinfelder (Geotechnical Engineer), Loisos + Ubbelohde (Daylighting Consultant), FMS (Lighting Consultant), C.S. Caulkins Co (Access & Maintenance), Telecom (Telecommunications), Whiting-Turner (Pre-Construction GC)