Inaugurated in 2015, the Frederiksvej Kindergarten, conceptualized and brought to life by COBE Architects, introduces a novel approach to early childhood educational architecture. Rather than viewing the kindergarten as a singular, large entity, COBE Architects designed it as a harmonious assembly of smaller units. Each of these units is thoughtfully calibrated in size and height to correspond seamlessly with the varying scales found in the surrounding context. This innovative approach promotes a child-centric environment that emulates the intimacy of home and encourages exploration and learning while also blending harmoniously with the architectural language of the neighborhood.
Frederiksberg Kindergarten Technical Information
Architects1-2: COBE
Location: Frederiksberg, Denmark
Client:

City of Frederiksberg

Program: Kindergarten

for 182 children, Ages 0-6

Size: 

1.700 m

2
Status:

1

st

Prize in Competition 2011

Project Year: 2015
Frederiksberg Kindergarten Photographs
For us, architecture is not a matter of a certain style or form, but more importantly its adaptability to the local context, its social life and its users.

– Cobe Architects
Text from the Architects
A few years back, a small daycare institution for 30 children was demolished on the site, making room for a new kindergarten with room for 6 times as many children – making it the biggest daycare institution in the Copenhagen neighborhood of Frederiksberg. Aiming to create a safe everyday life for the children, the project consists of 11 small houses joined together with different orientations.
From the outside, the daycare institution appears as a playful village for children, but it is nonetheless coherent and efficient from the inside. The houses are small, compact, and functional in everyday life while still exciting and challenging for children.
Frederiksberg Kindergarten Plans

Frederiksberg Kindergarten Image Gallery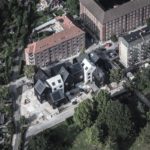 About COBE
COBE is a progressive and contemporary community of architects that focuses on architecture and design – from buildings to public space to large-scale urban planning.
In 2005 Dan Stubbergaard and Vanessa Miriam Carlow founded COBE. The name COBE is derived from the two cities the founders are coming from – Copenhagen and Berlin. Since its establishment, COBE has gained international recognition through the realization of beautiful and innovative projects.
Today, COBE is two separate companies – one seated in Copenhagen (COBE ApS headed by Dan Stubbergaard) and one in Berlin (COBE Berlin GmbH headed by Prof. Dr. Vanessa Miriam Carlow).
The two offices have shared several projects in the past, and apart from developing projects individually, they continue to share and collaborate on selected projects – also in the future.
Notes & Additional Credits
Collaborators: 

Preben Skaarup Landskab, Søren Jensen Rådgivende Ingeniører, Learning Spaces

Team:

Dan Stubbergaard, Rune Boserup, Eik Bjerregaard, Kato Hiroshi, Greta Tiedje, Jens Wagner, Claes Nilsson, Christian sander, Davide Pontoni, Agnieszka Krasuska, Agnieszka Szczepanska