Fish Tail Park, designed by the landscape architecture firm Turenscape, is an innovative urban oasis nestled in the heart of Nanchang City, China. Aptly named the Floating Forest, this ecologically-conscious park serves as a green lung for the bustling metropolis, offering a serene and rejuvenating retreat for residents and visitors alike. The park's unique design, sustainability features, and seamless integration with the surrounding urban fabric make it a shining example of modern, eco-friendly urban planning.
Fish Tail Park Technical Information
The wise man adapts himself to circumstances, as water shapes itself to the vessel that contains it.

– Dr. Kongjian Yu, founder of Turenscape
Fish Tail Park Photographs
A harmonious blend of nature and architecture elevates urban life in Nanchang City.
In the city of Nanchang, within the Yangtze River flood plain in east-central China, Turenscape transformed a 126-acre landscape into a dreamlike floating forest that regulates stormwater, provides habitat for wildlife, offers an array of recreational opportunities, and gives residents a new way to connect with nature. This has lent a unique identity to the New District, catalyzing urban development in the surrounding area.
Fish Tail Park offers a replicable model of designed urban nature for regions with monsoon or variable climates that can address the multiple challenges of floods, habitat restoration, and recreational demands. The project is part of a more significant effort by the landscape architect to show that it is possible to open up new space in cities, not just for people but also for nature and for powerful forces like monsoon storms that drive critical natural processes.
Transform an urban dumping ground into an island-jeweled lake 
Inspired by the ancient concept of farming atop marshland and by simple cut-and-fill techniques such as the Aztec Chinampas, or floating garden system, the coal ash dumped on site was recycled and mixed with dirt from the fish pond dykes to create numerous islets.
At the same time, a lake able to accommodate two meters (6.5 feet) of the water-level rise was created, providing the capacity to catch a total of 1 million cubic meters of stormwater inflow.
Concept and Design
Turenscape envisioned Fish Tail Park as a natural sanctuary that would foster a sense of tranquility and well-being while addressing the environmental challenges posed by rapid urbanization. Drawing inspiration from the fishtail, a symbol of prosperity in Chinese culture, the park's layout is characterized by a series of interconnected, fan-shaped platforms that seem to float above the water.
The Floating Forest is comprised of wetlands, woodlands, and grasslands, all carefully arranged to create a diverse and flourishing ecosystem. This multi-layered approach to landscaping not only enhances the park's aesthetic appeal but also serves a functional purpose, promoting biodiversity and water purification.
Sustainability Features
At the core of Fish Tail Park's design is a focus on sustainability and environmental preservation. The park's wetland system plays a crucial role in this regard, acting as a natural filtration system for urban runoff. This not only improves water quality but also mitigates the risk of flooding in the surrounding area.
Additionally, native plant species have been strategically incorporated throughout the park to encourage the growth of local flora and fauna. Using permeable materials and integrating bioswales further enhance the park's ability to capture and filter rainwater, reducing the strain on the city's stormwater infrastructure.
Recreational Amenities and Community Engagement
Fish Tail Park offers a range of recreational amenities for visitors of all ages. From walking and cycling paths to birdwatching platforms and designated picnic areas, the park provides ample opportunities for residents to connect with nature and engage in outdoor activities.
The Floating Forest also serves as an outdoor classroom for environmental education. School groups and other community organizations are invited to participate in workshops and guided tours, helping to foster a greater understanding of ecology and the importance of sustainable urban development.
Fish Tail Park, the Floating Forest, is a testament to the ingenuity and forward-thinking approach of Turenscape Architects. The park successfully integrates ecological sustainability with the demands of urban living, providing Nanchang City with a lush, green oasis where people can escape the hustle and bustle of city life. As urban centers worldwide grapple with the challenges of rapid growth and environmental degradation, Fish Tail Park stands as a shining example of what is possible when architecture and nature are harmoniously blended.
Fish Tail Park Plans
Fish Tail Park Image Gallery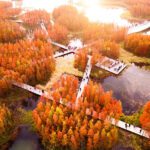 About Turenscape Architects
Turenscape landscape architects specialize in designing and planning outdoor spaces, strongly emphasizing sustainability, ecological restoration, and harmonious integration of nature and urban environments. The Turenscape landscape architects collaborate closely with other experts in various fields, including urban design, environmental design, and engineering, to develop holistic solutions for urban spaces. Their innovative designs prioritize the preservation of natural ecosystems, water management, and the use of native plant species, resulting in green spaces that promote biodiversity and environmental health.
Lead Designer:

Kongjian Yu

Design team:

Kongjian Yu, Design Lead

Landscape Architect:

Yu Hongqian, Fang Yuan, Tong Hui, Jia Jianmin, Wang Dezhou, Wang Haixu, Wen Xuanying, Chen Lingxue, Wang Rui, Bang Minghui, Chen Yunying, Zhang Chao, Liu Jiahao, Wang Xiaoming, Zhang Fan, Jiang Jingri

Engineer:

Yu Fumin, Zhang Wei, Chen Rao, Lu Ang, Li Bo, Huang Songtao