E.1027, located in Roquebrune-Cap-Martin, France, stands as a seminal work in the history of modernist architecture. Designed by the Irish architect Eileen Gray, in collaboration with her partner Jean Badovici, E.1027 embodies Gray's unique vision of living space and functional design. This article explores the architectural significance of E.1027, the philosophical ideas behind its design, and the lasting impact it has had on the field of architecture.
E.1027 Villa Technical Information
To create, one must first question everything.

– Eileen Gray1-2
E.1027 Villa Photographs
Eileen Gray's Modernist Masterpiece
Built between 1926 and 1929, E.1027 emerged during a period of radical change in architectural thinking. The Modern Movement was in full swing, advocating for a break from historical styles and a focus on functionality and new materials. Eileen Gray, an accomplished furniture designer, extended her innovative ideas to architecture with the creation of E.1027.
The name "E.1027" itself is a cipher, representing the intertwined initials of Eileen Gray and Jean Badovici, with numbers corresponding to their positions in the alphabet.
The house stands on stilts, a strategy to cope with the site's rocky terrain while also allowing for stunning sea views. Its open plan and extensive use of glass provide a connection between interior and exterior spaces, blurring the boundaries between nature and the human-made environment.
The main living areas are organized around a central axis, with private spaces tucked away. Gray's meticulous attention to detail is seen in the custom-designed furniture, innovative use of materials, and clever storage solutions. Every element was carefully considered to create harmony and efficiency.
The house is also rich in symbolism, with maritime themes and specific color choices reflecting both a connection to the Mediterranean Sea and Gray's personal aesthetics.
The Essence of E.1027: Interior Design, Furniture, and Lasting Influence
E.1027's interior design was a groundbreaking synthesis of form and function. Gray's meticulous approach led to spaces that were not only aesthetically pleasing but designed with human interaction in mind. She was a pioneer in understanding how people would use the space, ensuring that each element had a practical purpose.
The layout allowed for free movement and a seamless connection between spaces. Gray's use of pivoting wall panels and built-in furniture made the rooms versatile and adaptable. These innovative features, combined with careful material choices, made E.1027 a living piece of art.
Gray's talents as a furniture designer were evident in the bespoke pieces created specifically for E.1027. Her E-1027 adjustable table and Bibendum Chair are now iconic designs in their own right. She believed that furniture should be "an extension of human limbs and adapted to human movements." This philosophy led to creations that were both elegant and ergonomic.
Her use of materials such as tubular steel reflected the industrial age, while her refined sensibilities made these pieces timeless. Gray's work in E.1027 demonstrated that functional furniture could also be extraordinarily beautiful.
The restoration of E.1027 was a complex process that required detailed research and careful execution. Alterations made by previous owners, including Le Corbusier, had to be undone to restore Gray's original vision. The restoration shed light on Gray's innovative techniques and provided a renewed appreciation for her work.
The process was not without controversy, with debates over the extent to which the house should be restored to its original state. However, the restoration has allowed E.1027 to be experienced as Gray intended, and the house is now open to the public.
E.1027 continues to inspire architects and designers around the world. Its principles of functionality, adaptability, and human-centered design are as relevant today as they were in the 1920s. Gray's vision for E.1027 transcended architectural trends, resulting in a design that remains fresh and engaging.
The story of E.1027 and Eileen Gray is one of resilience, creativity, and the timeless appeal of well-designed space. It stands as a tribute to the potential of architecture to enhance our lives and challenge our perceptions of what is possible. In E.1027, Eileen Gray's genius resonates across generations, affirming her place as one of the true visionaries of the architectural world.
E.1027 House Plans
E.1027 House Image Gallery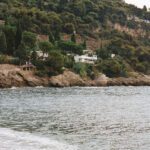 About Eileen Gray
Eileen Gray (1878-1976) was a pioneering Irish architect, furniture designer, and a central figure in the Modernist movement. Known for her innovative use of materials, ergonomic designs, and a profound understanding of space, Gray's work transcended conventional design norms. Her most celebrated architectural work, E.1027, is a testament to her unique vision, blending form and function in a harmonious relationship. As one of the few women working in a male-dominated field during her time, Gray's contributions were initially overlooked, but her legacy has since been reevaluated, and she is now recognized as one of the 20th century's most influential designers.
Notes & Additional Credits
The quote encapsulates Eileen Gray's method of thinking and designing, always questioning the status quo and looking for innovative solutions. In the context of E.1027, it shows her commitment to rethinking the traditional concepts of space, function, and form to create a unique and highly personalized living environment.

Eileen Gray, Designer and Architect by Cloe Pitiot (Editor) & Nina Stritzler-Levine (Editor)