Completed in 2009 by Lisbon-based architects Pereira Miguel Arquitectos, Casa del Monte, or "The Dune House," is a hidden concrete structure beneath a sand "dune¨that establishes a new relationship between architecture and landscape.
Casa Monte by Pereira Miguel Arquitectos Technical Information
Maybe one day we'll find a goat grazing on our roof, while we're taking a dip in the pool below

– Pereira Miguel Arquitectos
Casa Monte "Dune House" by Pereira Miguel Arquitectos Photographs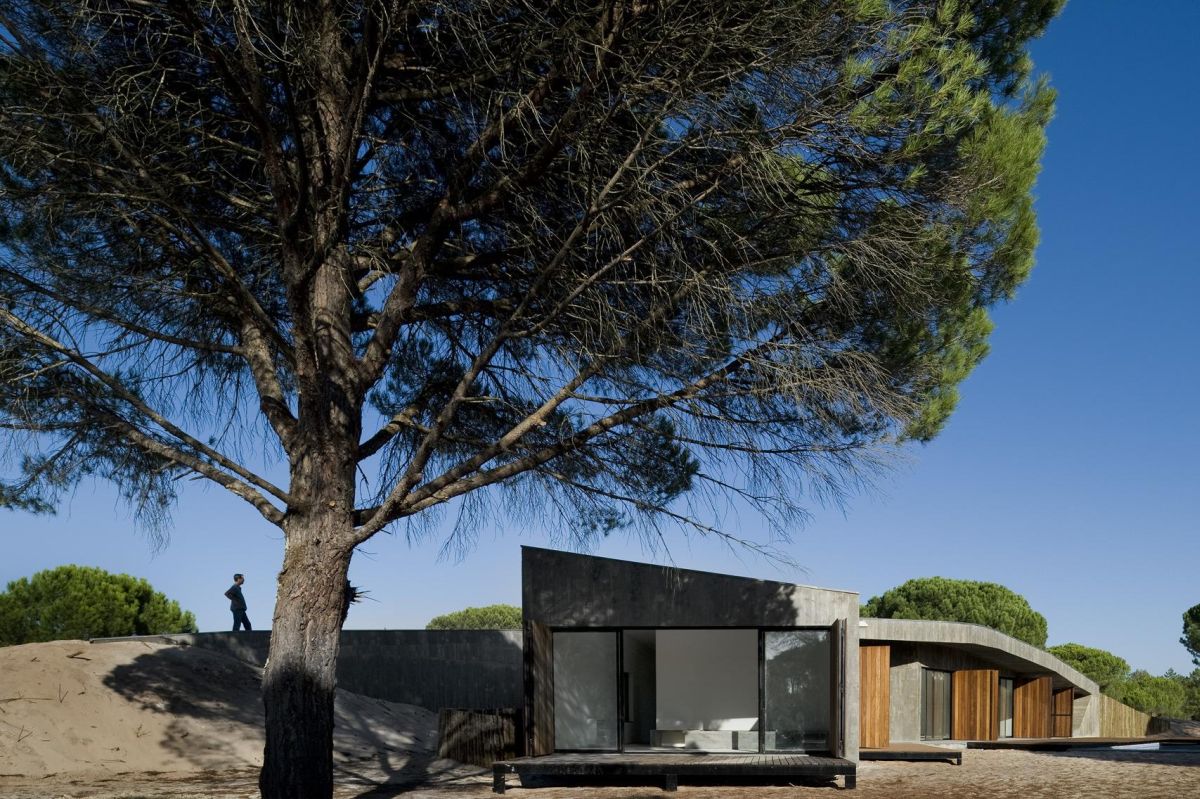 © Fernando Guerra + Sérgio Guerra
Text by the Architects
The project tries to establish a new relationship between architecture and landscape by using the two universes into one unique group. Two artificial dunes connect the house to the landscape and extend its limits. In the middle, four concrete arms shelter all living functions in a crisscross direction. The roof undulates, in a warped shape, creating different interior and exterior atmospheres. Crossing the house through the roof becomes an experience in itself, giving new points of view over the landscape and reminding us of the old road that crossed it before.
"Given its geographical location, the Grândola area is constantly at the mercy of major fluctuations in temperature. Accordingly, the building's thick concrete walls have been reinforced from the inside with redbrick cladding, while the sand and resulting vegetation also naturally serve to provide effective insulation and regulate the ambient temperature inside.
Furthermore, most of the house's windows face southward such that the building is flooded with maximum daylight as possible, even in the winter months. Whereas in the summer, wooden shutters keep out unwanted glare. […]
Alongside these key architectural aspects, the fundamental idea behind this building is extremely idealistic. In the "Dune House," the architects aimed to create a living space where the boundaries between architecture and nature would be very much blurred.
The house's cave-like feel affords its occupants a feeling of safety and security when inside. At the same time, the "Dune House" constitutes a new habitat for flora and fauna, such that over time nature, weather conditions, and flourishing vegetation, will mold and shape the house anew."1
Casa Monte Plans
Casa Monte "Dune House" Image Gallery
About Pereira Miguel Arquitectos
Pereira Miguel Arquitectos is a Lisbon based architecture office that aims to develop a sustainable practice in architecture, urbanism, 3D, and architectural research. The firm executes various scales of projects in competitions or direct commissions, real or virtual, to constitute a body of work capable of facing the new challenges of the digital society.
Other Works from Pereira Miguel Arquitectos
[cite]