Casa Rosario, completed in 2020 by DOSA STUDIO and Rojkind Arquitectos, is a remarkable example of sustainable architecture and a reconstruction project undertaken in the aftermath of the devastating 2017 earthquake in Mexico. Led by PienzA Sostenible and supported by Love Army, this transformative initiative revitalized Rosario's fragmented house, achieving a harmonious fusion of nature and design. The reconstruction showcases ingenious elements such as open-air pathways and buried cubes, seamlessly connecting different spaces while embracing the natural topography, resulting in a truly unparalleled living experience.
Casa Rosario Technical Information
This series of four livable cubes and the pool are buried in the topography and seem to emanate from the earth, taking advantage of the natural slopes of the terrain and generating different experiences at different levels.

– DOSA STUDIO Architects
Casa Rosario Photographs
Transforming Fragments: A Sustainable Reconstruction

Text by the Architects
PienzA Sostenible initiated the reconstruction project following the 2017 earthquake in Mexico with the valuable support of the Love Army. The project focused on revitalizing the living conditions of the Hernández family, who are dedicated to plant cultivation and consist of three members.
Initially, Rosario's house was a fragmented structure with open-air pathways connecting various spaces. These pathways provided a unique journey accompanied by lush vegetation, seamlessly connecting the interior and exterior areas.
Drawing inspiration from this harmonious way of living, we incorporated the concept into the development of the project. The new design features open-air pathways that separate different functions, connecting semi-offset cubes. Each cube possesses its own distinct identity based on its purpose.
By integrating these four livable cubes and a pool into the natural topography, we create a sense of harmony with the earth. Utilizing the natural slopes of the terrain, the structure appears to emerge organically from the land, offering diverse experiences at different levels.
The exterior passages aim to maintain a constant connection with each space and gradually unfold as one embarks on the journey. The visual escapes culminate with the graceful fronds of trees and the flourishing vegetation that will eventually merge with the pathways over time.
Casa Rosario Plans
Casa Rosario Image Gallery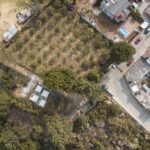 About DOSA STUDIO
Established in 2014 by Raúl Medina and Sergio Sousa, DOSA STUDIO operates as a collaborative architectural hub from its bases in Mexico City and Los Angeles. The studio is committed to sculpting spaces that instigate positive social transformation in line with contemporary contexts. DOSA STUDIO's ethos is deeply rooted in social commitment, striving to produce architecture that speaks to a broad audience. This approach cultivates a vibrant "architect-user" relationship that encourages close collaboration and fosters a sense of community in the development process.
Architects: Raúl Medina, Sergio Sousa, Michel Rojkind
Collaborators: Paola Monreal, Gustavo Guadarrama, Mariana Rodríguez, Ruth Díaz, Víctor Cruz, Elí Ambris