Alvar Aalto, an iconic figure in the realm of modern architecture, carved a niche for himself with his nuanced understanding of form and space, and his sensitivity towards the surrounding environment. One of his early masterpieces, the Viipuri Library (1935), nestled in Vyborg, Russia (formerly Viipuri, Finland), encapsulates his groundbreaking design philosophy. The library is an exceptional synthesis of Aalto's vision, innovation, and boldness to challenge conventional norms. 
Vyborg Library Technical Information
Architects: Alvar Aalto
Topics: Libraries
Area: 2,500 m2
Project Year: 1927-1935
Restoration: 1994-2013
Photographs: © Alvar Aalto Foundation, © Petri Neuvonen, © Gustaf Welin
Architecture is only a very, very small part of man's life. It is not more than that unless we think that it is more. One of the qualities that immediately impresses us in any architectural masterpiece, from the Gothic cathedral to the simplest dwelling, is the feeling that the architecture is completely dominated by and fused with the basic facts of life.

– Alvar Aalto1
Vyborg Library Photographs
Architectural Innovation: Light, Material, & Acoustics
Aalto's design philosophy was deeply rooted in humanism and naturalism, which found its essence in his designs. He envisioned his buildings as living entities, harmoniously blended into their environments. His designs catered to the function, the needs of the users, and the context, reflecting an organic and democratic architecture approach.
The Viipuri Library is an embodiment of this philosophy. Conceived as a "forest of columns," the library was designed to house a growing collection of books and serve as a community space for Viipuri's residents. The building's organization represented an intuitive understanding of public space, with separate zones for children and adults, a lecture hall, and an open circulation space. The highlight of the original design was the main reading room with its undulating, wave-like ceiling, made of reinforced concrete slats designed to modulate natural light – a testament to Aalto's innovation and thoughtfulness.
The Viipuri Library is remembered as much for its architectural forms as for its pioneering approach to materials and technology. Aalto's experimental attitude towards materiality and construction is evident in the library's design, especially in his innovative use of light and sound.
The most renowned aspect of the Viipuri Library is the wave-shaped ceiling of the main reading room. Aalto innovatively used reinforced concrete, forming a rhythmically undulating, free-form structure that enabled both acoustic and light control. The waved ceiling was a pragmatic and aesthetic element, where form followed function – it modulated natural light to minimize glare and created excellent acoustics for the reading room.
Aalto's application of wood and other natural materials, his careful handling of light, and his innovative use of construction techniques mark the Viipuri Library as a transition point from his early classicism toward a unique brand of modernism that would define his later works.
Restoration: A Journey Back in Time
Over the years, due to the turmoil of war and political changes, the Viipuri Library had fallen into a state of disrepair. The building's historical and architectural significance led to a monumental restoration effort spearheaded by the Finnish Committee for the Restoration of Viipuri Library and architect Tapani Mustonen.
The restoration process, lasting from 1994 to 2013, was painstaking. Every effort was made to stay faithful to Aalto's original design, maintaining the authenticity of the materials, design details, and overall spirit of the space. This commitment to preservation offers us a glimpse of Aalto's original intent and design, fostering an appreciation of his contribution to modern architecture.
Alvar Aalto's Viipuri Library continues to inspire and educate, transcending boundaries of time and geography. The library serves as a reminder of Aalto's holistic vision of architecture, where form and function, interior and exterior, man-made and natural, exist in harmony. A visit to the library is a journey into the heart of Aalto's design philosophy – a timeless exploration of light, space, material, and the human experience. Through the Viipuri Library, Aalto has etched an enduring mark in the annals of architectural history.
Vyborg Library Plans
Vyborg Library Image Gallery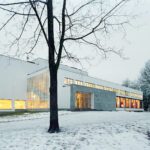 About Alvar Aalto
Alvar Aalto (1898–1976) was a Finnish architect and designer, recognized as a pivotal figure in the development of modern architecture during the 20th century. His humanistic approach to modernism, often termed as "Nordic Classicism" or "Functionalism," resulted in an iconic architectural language that gracefully merged form, function, and context. Aalto's buildings, such as the Viipuri Library and Paimio Sanatorium, demonstrate a sensitivity towards natural materials, light, and the human experience. Moreover, his furniture and product designs extended his holistic vision, reinforcing the idea of Gesamtkunstwerk – a total work of art. Aalto's work, characterized by its warmth, naturalism, and defiance of standardization, profoundly influenced subsequent generations of architects and designers, making him a beacon in global architectural history.

Notes & Additional Credits