Situated amidst the lush vineyards of Alella, distinguished with the prestigious Denomination of Origin (D.O.) status, Pineda & Monedero have brought to life a masterstroke of design. They tackled an unconventional challenge: crafting an irrigation reservoir that also doubles as a swimming pool. The result is an inventive blend of functionality and aesthetics, resonating seamlessly with the vibrant landscape.
Alella D.O. Reservoir Technical Information
The shape of the pool is a rectangle of 4.6×19 metres that sits between two rows of vines. Its dimensions are limited by the distance between rows in order to eliminate the minimum number of ancient vines.

The pool is painted with a deep red colour, thus, like Jesus, the water is transformed into wine in order to have the feeling of being inside a red wine glass.

– Pineda & Monedero Architects
Alella D.O. Reservoir Photographs
Harmonizing Heritage and Innovation
Nestled amidst the rows of flourishing Alella vineyards, the site boasts spectacular views of the neighboring chapel and the sweeping expanse of the sea. This unique placement within a historic estate, however, presented the architects with several dilemmas. Among these was the critical goal to seamlessly integrate the new construction amidst the rows of century-old vines, minimizing any disturbance to the pre-existing ecosystem.
Pineda & Monedero rose to the challenge. Demonstrating an exceptional blend of innovative design and respect for the environment, they created a structure that fits surgically between the vineyard rows. The reservoir's dimensions were meticulously planned, guided by the precise distance between the vineyard rows and with the intention of preserving as many of the centennial vine stocks as possible.
One of the highlights of their design is how the reservoir straddles two terraces. This unique placement allows for easy access from below to the machinery room. In a further demonstration of their attention to detail and creative use of space, Pineda & Monedero included a staircase at the reservoir's end. This addition effortlessly navigates the site's natural slope, leading to the roof of the warehouse that ingeniously serves as a sun deck.
Maintaining a restrained, earthy palette, Pineda & Monedero chose materials that mirror the site's natural beauty. They limited their selection to terracotta flooring and rough cement plaster mixed with the clayey soil of the location itself. But the real piece de resistance is the reservoir's color – a deep, intense red. This touch of creative flair transforms the water into a visual representation of wine, bringing to mind the biblical narrative of Jesus' miracle. The effect is completed by the surreal sensation of swimming within a glass of garnet-red Grenache. From this unique vantage point, swimmers are offered a view consisting solely of the surrounding vineyards, the church bell tower, and the open sky.
Alella Reservoir Plans
Alella Reservoir Gallery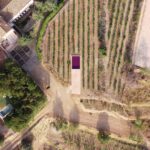 About Pineda & Monedero
Pineda & Monedero is a dynamic architectural firm rooted in Barcelona, pioneering innovative and influential designs.

Notes & Additional Credits
Design Team: Antón Monedero de Balanzó, Alex Pineda Bardají, Arnau Reventós Meseguer, Jaime Prous Martín
Technical Architecture: Josep Lluís Reventós
Engineering: Xavier Gimferrer Vilaplana