In response to the devastation of agricultural towns in Aichi by the Ise Bay Typhoon in 1959, renowned Japanese architect Kisho Kurokawa conceived a visionary concept in 1960 – the "Agricultural City." Kurokawa's design went beyond mere reconstruction, offering a forward-thinking architectural solution that addressed the region's vulnerability to flooding.
His revolutionary design proposed that the entire city be elevated above the ground, a radical approach aimed at mitigating the impacts of future floods. The proposed city was organized around a grid structure spanning between 300 and 500 meters that would support the elevated buildings and infrastructure.
More than a practical solution to a natural disaster, Kurokawa's Agricultural City was a challenge to traditional urban design philosophies. It contested the prevailing assumption that urban and rural environments were inherently antagonistic, instead promoting harmony between agriculture and urban living. This reflected Kurokawa's adherence to the principles of Metabolism, an architectural movement that sought to combine architectural megastructures with organic growth and renewal.
Agricultural City Technical Information
Philosophers have hitherto only interpreted the world in various ways; the point is to change it. That's what I've been doing my whole life.

– Kisho Kurokawa1
Agricultural City by Kurokawa Plans
Text by Kisho Kurokawa
It seems to me that there exists a city versus village concept with an emphasis on cities. We say "the flow of agricultural population into cities" or "dispersion of urban population." I believe that rural communities are cities whose means of production are in agriculture.
Agricultural cities, industrial cities, consumption cities, and recreation cities should each form an integral part of a compact community. A distinct urban system should exist between those cities. Agricultural cities have potential as future cities. And that is the reason why it is necessary to have a basic plan for their future expansion.
The basic unit of Japan's rural area is a 500 m x 500 m community centered around a shrine, a grammar school, and a temple. According to the proposed plan, roads, water services, electricity, monorails for work, and other facilities are installed 4 meters above the ground. This will enable the common handling and administering of agricultural works.
The level of the facility frame is the level of expansion of social life. And this is where shrine, schools, and administrative institutions are established.
The basic housing unit (vide) is in the shape of a mushroom, a one to three-storied structure with a wooden frame aluminum roof. The mushroom-shaped house has a ferroconcrete facility shaft to which living quarters and other facilities are attached. Water, electricity, and gas are provided as municipal facilities. The equipment shaft is the center of the mushroom structure as well as the equipment base, which provides such architectural equipment as bathrooms, kitchen units, washbasins, etc. The surrounding living area is a medium to facilitate the circulation of architectural equipment.
A 500 m x 500 m frame is the basic unit of the community. It consists of twenty-five 100 m x 100 m blocks for 200 people.
Design Concept
Natural growth of the agricultural city is provided by a grid system of streets containing the utility pipes underneath.While each of the square units composed of several households is autonomous, linking these units together creates a village.

The living units multiply spontaneously without any hierarchy, gradually bringing the village into being as the traditional rural settlement has developed throughout Japanese history.

– Kisho Kurokawa1
Agricultural City, 1960 Plans by Kisho Kurokawa
Agricultural City Image Gallery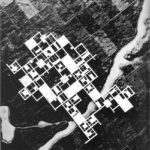 About Kisho Kurokawa
Kisho Kurokawa (1934 – 2007) was a leading Japanese architect and one of the Metabolist Movement founders. He was one of the most radical and productive thinkers, and for almost forty years, his never-ending stream of writings, drawings, and projects revolved around his 'Philosophy of Symbiosis.' His architecture focused on keeping traditional Japanese concepts invisible, especially materiality, impermanence, receptivity, and detail. Kurokawa specifically referred to these four factors in his discussions of new-wave Japanese Architecture.
Other Works from Kisho Kurokawa
Kisho Kurokawa From Metabolism to Symbiosis by Kisho Kurokawa