The world's first 3D-printed neighborhood is a collaboration among the housing non-profit organization New Story, 3D printing company ICON, which specializes in construction; and Mexico-based housing social enterprise Échale. The project, which began construction in 2017, is located in a remote area of Tabasco, Mexico.
3D-Printed Neighborhood Technical Information
Architects: New Story, ICON, Échale
Location: Tabasco, Mexico
Material: Lavacrete
Typology: Residential / 3D-Printed Residential Neighborhood
Project Year: 2017 – Ongoing
Photographs: © New Story, © ICON, © Échale
We believe inclusive design is the key to successful innovative housing communities. Asking families for their input before we build has become the most critical part of our building process.

– New Story Architects
3D-Printed Neighborhood Video
3D-Printed Neighborhood Photographs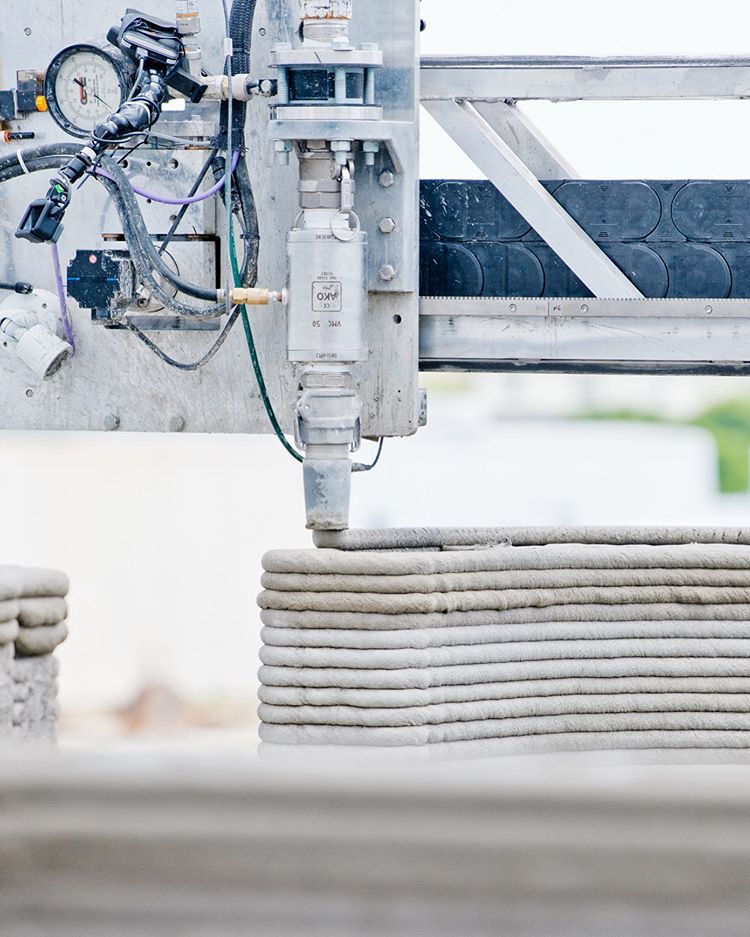 Providing shelter to underserved communities all over the world is the main objective of the San-Francisco based non-profit organization, New Story. So far, they have helped fund over 2,200 homes in four countries, Mexico included, helping thousands of lives in their humanitarian efforts. They're looking for breakthrough solutions in solving the global housing crisis, given that the number of homeless people is increasing at a very rapid pace. It is a problem that can no longer be solved by traditional homebuilding methods.
Enter ICON, an Austin-bred startup with 3D printing technology capable of building homes. Today's 3D printers are so advanced that they can now be used to work on a variety of different architect projects with innovative materials. Fictiv lists down just a few: PLA, a biodegradable material perfect for early-stage design; nylon, which comes with excellent heat deflection and flexural strength; and VeroClear, a translucent material that diffuses light over a distance, are some key examples. Vulcan II, the 3D printer responsible for the new neighborhood, uses proprietary concrete that ICON calls LavaCrete.
ICON co-founder Evan Loomis explains that a tablet can manipulate the printer, and the process is as easy as printing an uploaded design. Vulcan II also has fully automated functions for the mixing and pumping of the construction material. The cement blend is then pressed out one layer at a time.
Each of the homes built in Tabasco only took 24 hours to construct, a feat now made possible by innovative technology. Together with Échale, the collective goal of New Story and ICON is to provide safety and security for Mexican families struggling with homelessness. USA Today reports that many live on a meager $3 a day, and 50 families in total will be residing in the newly built community.
So far, the project has succeeded in completing two homes and is expected to construct 48 more in the future. Each of the 3D-printed homes is 500 square feet in size, with two bedrooms, one bathroom, and a functional kitchen. The walls are curved with lattice-work constructed to promote efficient airflow. And given that Tabasco is located in a seismic zone, the partners have ensured that the foundation of the houses will be ultra reinforced, giving the families added protection from earthquakes.
It is also worth noting that the families, who were preselected based on their degree of need, gave feedback on the design of their future home. More than anything, New Story aims to provide families with a place that they can truly call home.
For more news on community building and innovative architecture, check out our other stories such as Kenji Ekuan's Stimulating Projects from Furniture Design to City Planning.