In 1966, Japanese architect Takamitsu Azuma constructed the Tower House, an impressive six-story building on a mere 12-square-meter plot of land to house his family. The unique design features a central staircase that connects each level and provides 65 square meters of living space.
Despite its compact size, the Tower House has become a testament to how Japanese society has adapted to the urban and social changes of the past few decades. Even today, over half a century after its creation, the Tower House remains an avant-garde building and an impressive example of innovative architecture.
Tower House by Takamitsu Azuma Technical Information
When completed it was the "skyscraper" of Jingumae, nowadays it is a miniature house

– Takamitsu Azuma daughter
Tower House by Takamitsu Azuma Photographs
 A Unique Vertical Living Space in Tokyo's Modern Metropolis
The Tower House was erected on a 20-square-meter plot of land, and from the moment of its creation, it was regarded as a symbol of living in a modern metropolis.
When Takamitsu Azuma moved from Osaka to Tokyo in 1966, he built a house for his family. Designed as a continual vertical room for the architect's own family, the staircase appears as the most significant structure in the house. It connects the individual rooms, which are "piled" one on top of the other without any doors separating them.
The triangular plot is positioned directly on Aoyama's "Killer Street" in front of Mario Botta's Watari-um (The Watari Museum of Contemporary Art, 1990). A small public passage is used as well as parking. The daughter of the architect, Rie Azuma, is now living in the house. The building is best visible in winter; during the other seasons, a tree is nearly fully shading it from the street front.
Once completed, the raw-concrete tower could have been considered the "skyscraper" of Jingumae, overtopping by far the adjacent buildings. Nowadays, the house has been relativized by its neighbors, and we may make a mistake in associating it with the numerous Japanese "miniature house." The Tower House is a fascinating portrait of how Japanese society has dealt with the urban and social changes in the last few decades.
"When completed, it was the "skyscraper" of Jingumae; nowadays, it is a miniature house."
Takamitsu Azuma House Video
Tower House by Takamitsu Azuma Plans
Tower House by Takamitsu Azuma Gallery of images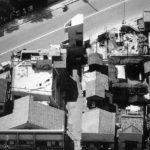 About Takamitsu Azuma
Takamitsu Azuma is a  Japanese architect who worked in Junzo Sakakura's office before becoming a founder-member of ArchiteXt in 1971. He evolved a concept of 'oppositional harmonies' in architecture by deliberately placing disparate elements together and even emphasizing them to create tension. His own house just featured is a tall concrete tower set among traditionally built single-story houses. Other works include the Satsuki Kindergarten in Osaka (1969–73), many individual private houses, and the K Flat housing, Mejiro, Tokyo (with Rie Azuma, his daughter).