A few months before his death, Louis I. Kahn completed Steven and Toby Korman's commission to design a six-bedroom house in Fort Washington, Pennsylvania.
Kahn Korman House Technical Information
An architect can build a house and build a city in the same breath, if he thinks about it as being a marvelous, inspired, expressive realm.

– Louis Kahn
Kahn Korman House Photographs
Korman House History
Louis Isadore Kahn was an American architect based in Philadelphia. After working in various capacities for several firms in Philadelphia, he founded his atelier in 1935. While continuing his private practice, he served as a design critic and professor of architecture at Yale School of Architecture from 1947 to 1957.
A few years before his death, in 1973, the architect Louis I. Kahn completed  Steven and Toby Korman's commission to design a six-bedroom house in Fort Washington, Pennsylvania—a process that began in 1971. The Korman House represents Kahn's unconventional and enduring vision of the American country home.
The Korman house is the largest and most glamorous of the private homes Kahn built, with nine bathrooms, six bedrooms, and a two-story, glass-walled living room. The house showcases exquisite materials, with its exterior made of cypress, glass, and brick, three 30 ft. brick chimneys, and a concrete foundation. The interior comprises douglas fir beams, white oak, and pine ceilings.
Korman House Interior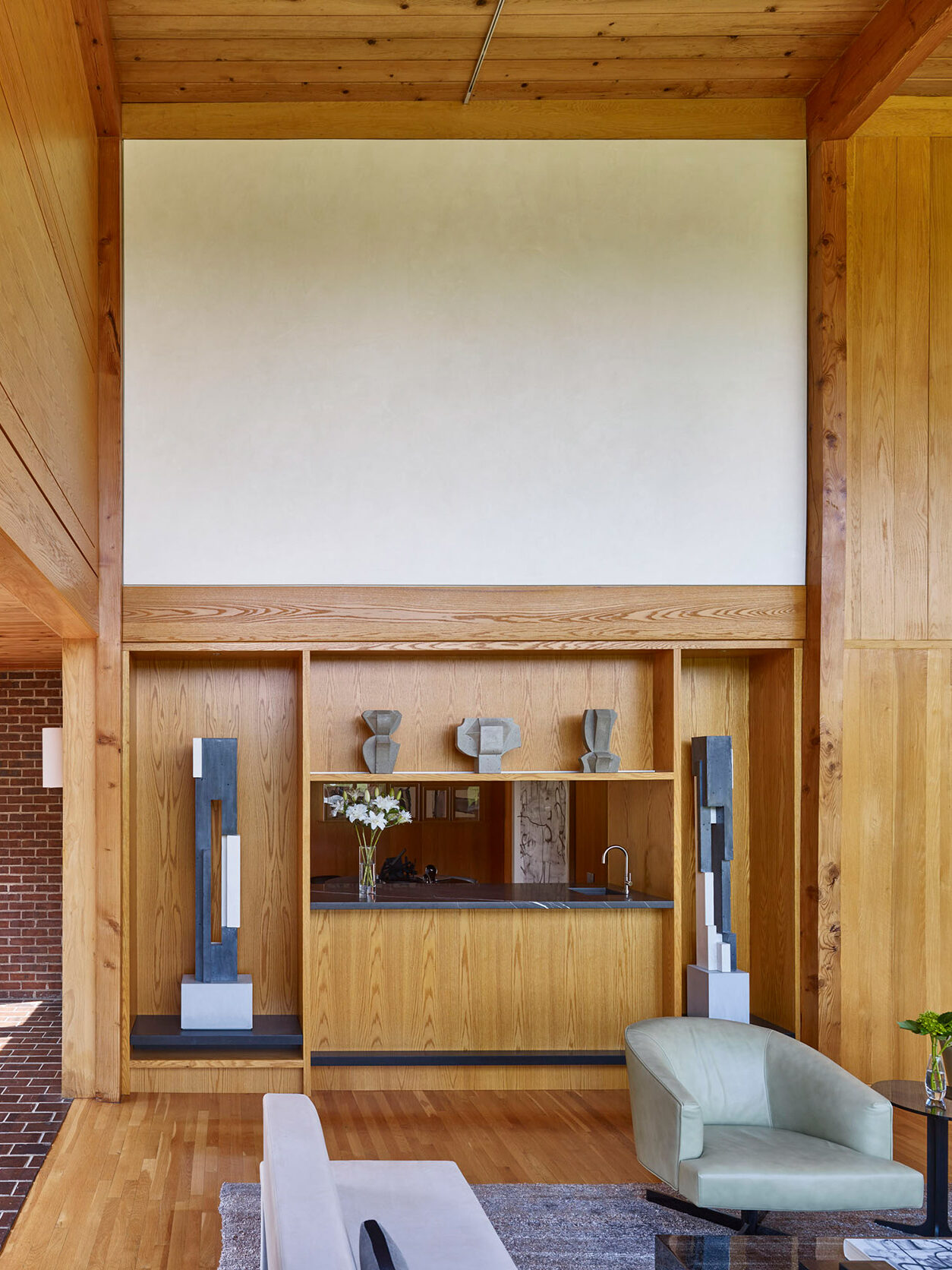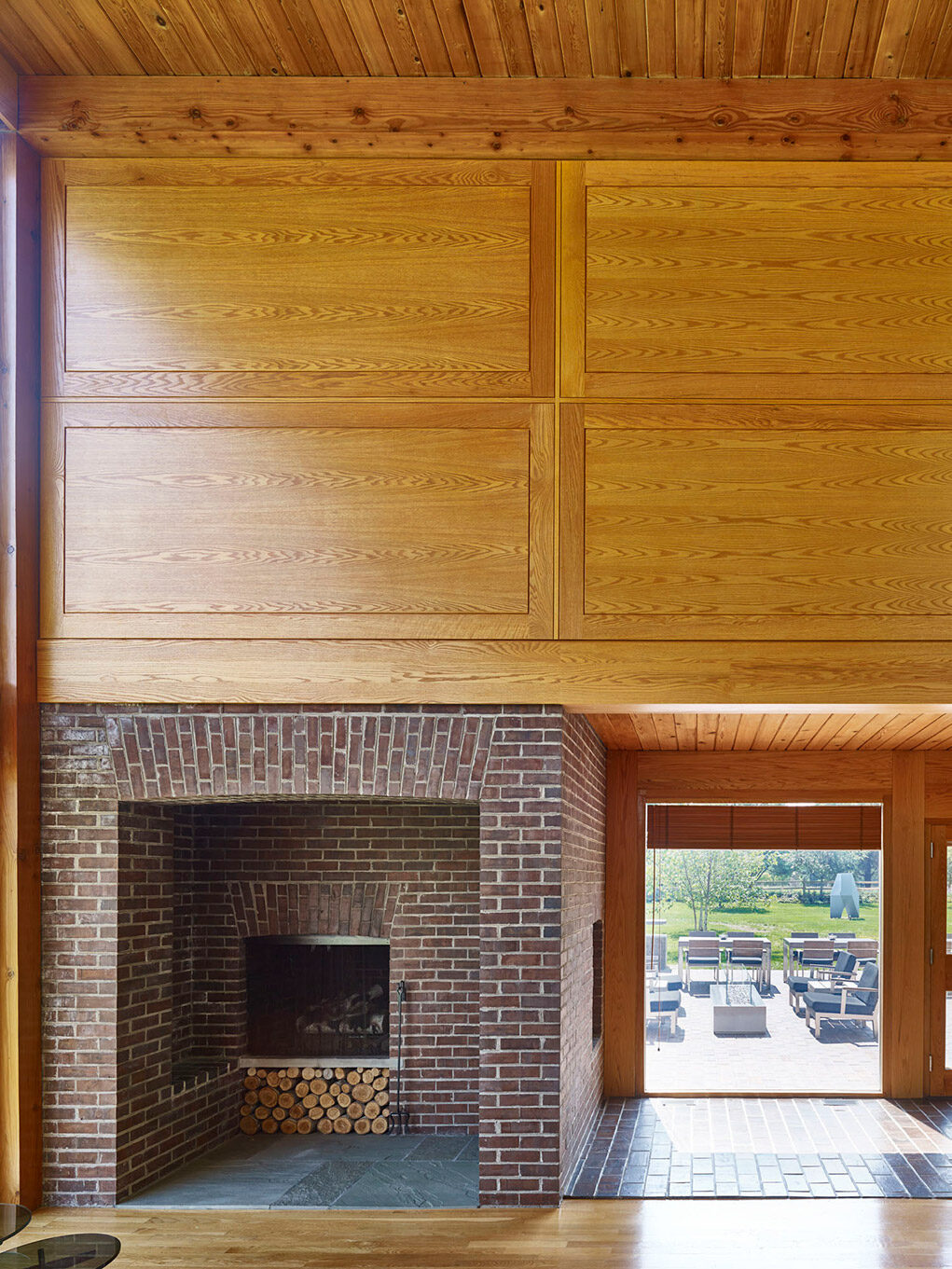 The entry hall's focal point is its staircase; beams of douglas fir extend from the basement to the second floor, elegantly defining the space. A left turn from the entrance leads into the living and dining spaces. Instead of giving us the sense that we're traveling deeper into the house and further from outdoors, entering the double-height room brings us back to the land: floor-to-ceiling windows reveal the open field behind the house, fully visible for the first time. The living room has privacy but also a feeling of openness: the room isn't closed off from the larger living area or the outdoors.
The second floor has three bedrooms for the Korman children, plus an identical guest room, each one with a separate bathroom. Across the stair hall is a large master bedroom with its own fireplace.
Kahn is renowned for creating some of the world's great institutional and monumental structures. Still, throughout his career, he thought and spoke about, designed, and re-designed many different kinds of dwellings. In the end, only nine of his private homes were built, all in the Philadelphia area.
It is a destination for architects and students worldwide that reveals how he created and understood domestic space. The house invites a new encounter with the qualities which define Kahn's masterworks: respect for his chosen materials, disciplined detailing, thoughtful siting, and a sensitive "choreography" of structure and natural light.
Today the house is a year-round home for a second generation of the Korman family.
Kahn Korman House Plans
Kahn Korman House Image Gallery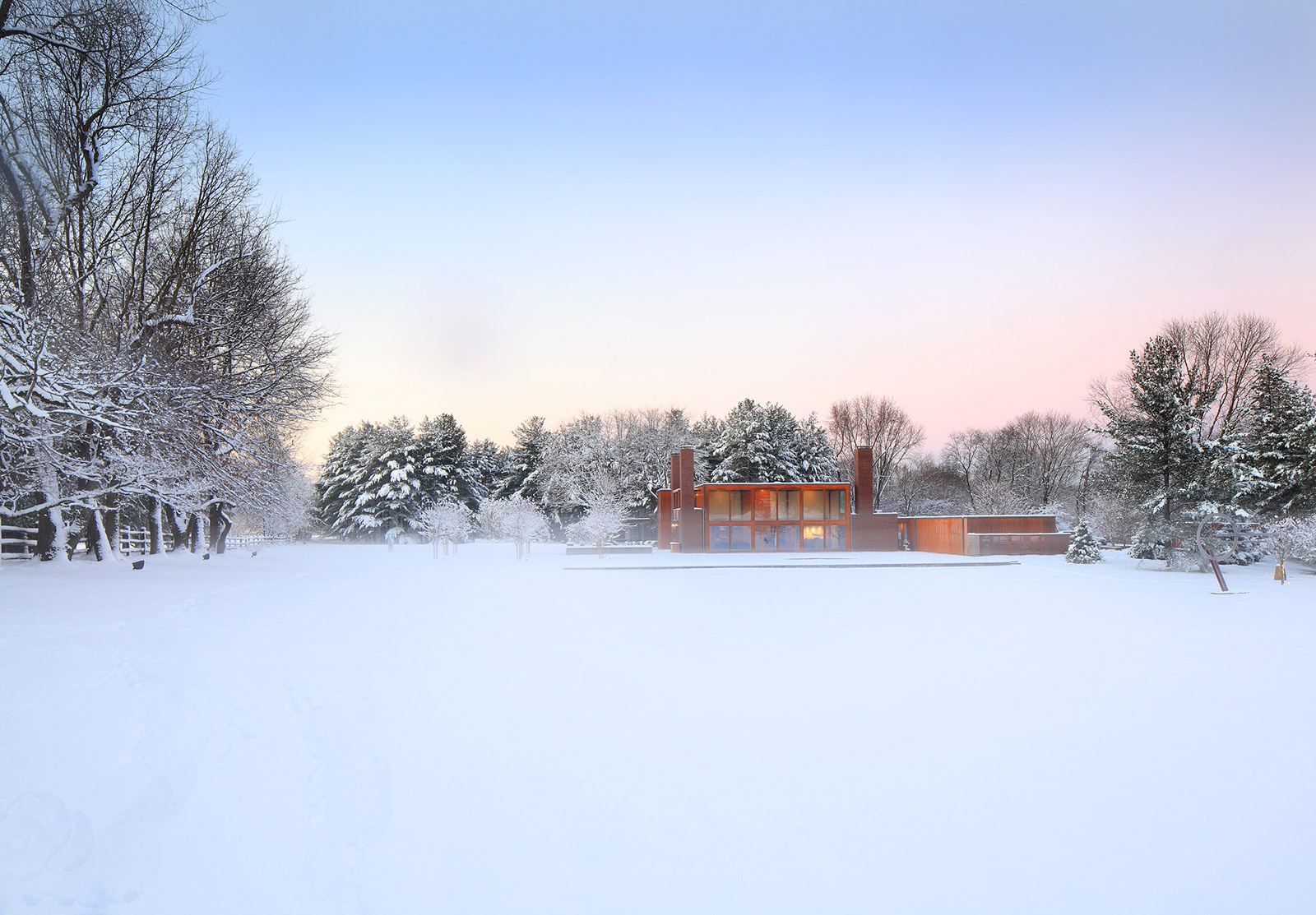 About Louis Kahn
Louis Isadore Kahn (1901 – 1974) was an American architect based in Philadelphia whose proposals and teaching made him one of the most influential architects of the twentieth century. Kahn created a monumental and monolithic style. Primarily, his massive buildings do not hide their weight, materials, or how they are assembled. Among Louis Kahn's more important works are the Phillips Exeter Academy Library, the Kimbell Art Museum, the Salk Institute, and the Jatiyo Sangshad Bhaban.
Full Bio of Louis Kahn | Works of Louis Kahn
Kahn, "The Room, the Street, and Human Agreement" (AIA Gold Medal acceptance speech, Detroit,
June 24, 1971), AIA Journal 56 (September 1971): 33. From Brownlee and De Long. Louis I. Kahn, 203.