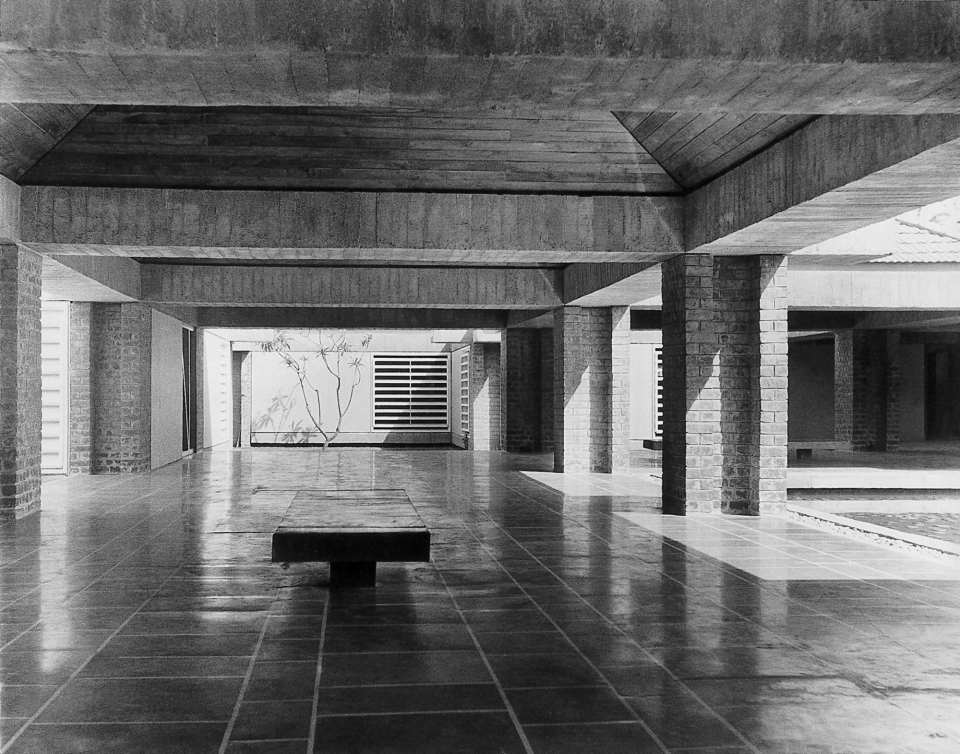 This Gandhi memorial museum designed by Charles Correa is located in the Ashram where the Mahatma lived from 1917 to 1930. Housing his books, letters and photographs, this modest and humanly scaled memorial uses brick piers, stone floors and tiled roofs to find a contemporary expression for the spirit of swadeshi.

Sabarmati Ashram Museum technical information
This is the right place for our activities to carry on the search for Truth and develop Fearlessness. On one side are the iron bolts of the foreigners and on the other, thunderbolts of mother nature.

– Mahatma Gandhi
Memorial Museum Photographs
Gandhi Memorial Museum description
The commission was Charles Correa's first important work in private practice. In order to reflect the simplicity of Gandhi's life and the incremental nature of a living institution the architect used modular units 6 metres x 6 metres of reinforced cement concrete connecting spaces, both open and covered, allowing for eventual expansion. Correa's subtle changes of the enclosure allow for variety in the module's lighting, temperature, and visual permeability.
The museum uses a simple but delicately detailed post and beam structure. Load bearing brick columns support concrete channels, which also support the wooden roof. The foundation is made of concrete and is raised about a foot from the ground.
The monumental and archetypal structure of the museum recalls the well-known work of Louis Kahn, who began two projects in the region shortly after Correa's museum was built.
Being a Gujarati, I thought I should be able to render the greatest services to the country through the Gujarati language. And then as Ahmedabad was an ancient centre of hand loom weaving, it was likely to be most favourable field for the revival of the cottage industry of hand spinning. There was also a hope that, the city being capital of Gujarat, monetary help from its wealthy citizens would be more available than any other place.

– Gandhi explanation for choosing Ahmedabad as is hub of activities.
Memorial Museum Plans
Memorial Museum Gallery